OPCO hosts christening ceremony for Hanjin's10K coal carrier
Oriental Precision & Engineering ("OPCO") held a christening ceremony for Hanjin's new HJ 1005 Coal Carrier on June 13, 2011 at its Jinhae 2 facility.
The ceremony was celebrated by about 100 of the representatives from all companies involved in the project, including the CEO of OPCO, the regional director of Hanjin, and Mr. Hahn, the supporting director of Korea South-East Power Co., the company which will be operating the vessel.
The ceremony started at 11 with the congratulatory addresses from OPCO and Hanjin, and awards were given to those who have put together this project, and the attendees were invited to tour the ship afterward. The ship was christened with the name "The Hanjin Green" and the honor was done by Mrs. Hahn, the wife of Mr. Hahn from Korea South-East Power Company.
The HJ-1005 is a 10,000-DWT-class coal carrier which was commissioned by Hanjin on the 29th of April last year; and the ship went under construction with the steel-cutting ceremony on July 29. The HJ-1005 was launched on March 19 this year and had successfully passed the test sail on May 28.
OPCO is to finish the final work on the ship before the delivery late this month, and when the Hanjin Green enters the service, OPCO expects the ship and its specialized and advanced facilities will serve Korea South-East Power Company and the respective industry it is deployed to operate in with flying colors.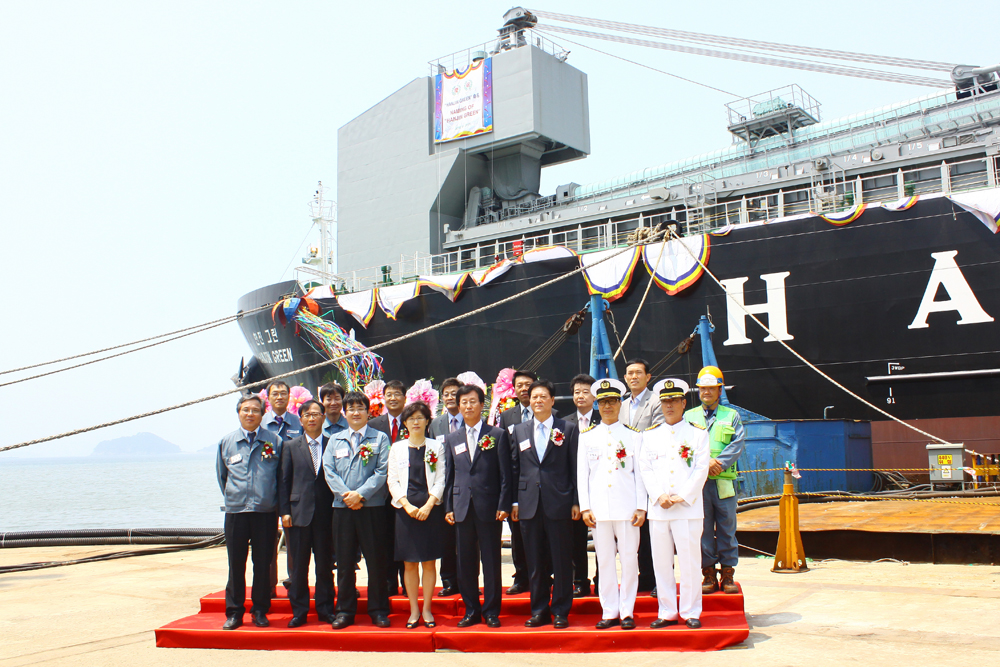 Photo: Christening of the Hanjin Green at OPCO's Jinhae 2 manufacturing facility