OMI launches JSK-D1006 Coal Carrier
Dalian Oriental Marine & Heavy Industry Co., Ltd("OMI"), an Oriental Precision & Engineering("OPCO")'s affiliate company, has launched the 12.9k coal carrier for Jaya Samudra Karunia Shipping of India last June at its Dalian facility.
The launching ceremony was witnessed by Chong-suk Suh, the president of OPCO; Mr. Kwon, the vice-president of OPCO; JSK Korea, KNC KR and other shipping registers and ship classification authorities; and about 50 staffs from OMI.
The JSK-D1006 Coal Carrier was launched on the launching tubes, bringing the ship on the floating dock alongside the pier, then the floating dock was drowned to float the ship—the process which took two days from June 24.
The first steel for JSK-D1006, a 12.9-DWT coal carrier, was cut on August 12 last year, and the ship's keel was laid on November 10 the same year. OMI has spent ten months to build the ship, and the ship is to be test sailed and finished over the next two months before she's delivered on August.
With the advanced production management system and tough quality standard, OMI was able to cut the delivery time by a whole month from its original September delivery date.
The sister ship JSK-D1007 is also about 90% finished, and she will be launched and outfitted after the D1006 will have been delivered at the end of August.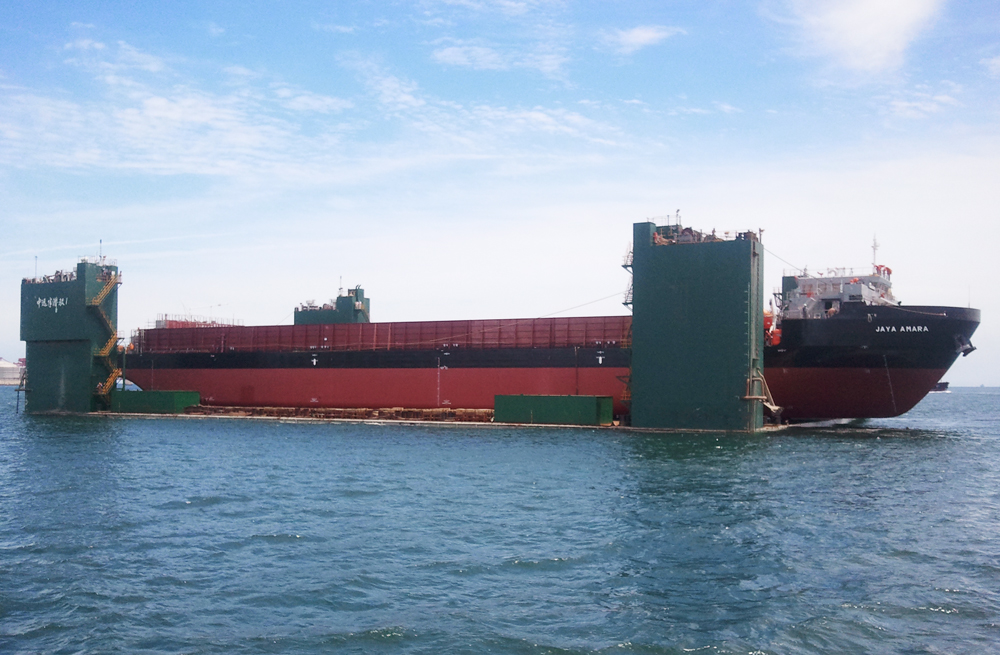 Photo: JSK-D1006 Coal Carrier being launched on the floating dock, June 25, 2011.