OPCO signed a MOU with AHO Industrial Developments Group
May 12th(Tue), 2009, Oriental Precision & Engineering ("OPCO" hereinafter) signed a MOU with A.H.O. Industrial Developments Group. AHO is a kind of shipbuilding-offshore consulting company that is related in reconstruction of shipyards, PDVSA NAVAL is one of the branch companies of Venezuela's state oil company, PDVSA.
The business scope in the future for Venezuela & domestic as below.
▲Participation of business & technology interchange about Manufacture, process and sale of ship equipments. ▲Participation of business & technology interchange about construction & engineering, design of factory, services concerned, manufacture and application of facility ▲Participation of business & technology interchange about manufacture, design, process and sale of off-shore plants.
AHO Group is going on a project that totals in the amount of 600 million dollars for reconstruction and expansion of shipyards in Venezuela. This MOU contract is a result that the experience, know-how, and technology of OPCO is recognized in shipbuilding & off-shore field. In addition, it's very meaningful to occupy a favorable position for receiving orders before and after the construction of shipyard.
Venezuela as the fifth petroliferous country in the world needs more vessels for oil transport &
development of oil field, etc. By participating in this project, OPCO predicts that the prospect of
receiving an order from shipbuilding & off-shore fields will be more possible.
AHO group is going to plan a business intended for nations and national oil & shipping companies in Venezuela, Brazil, Argentina, and other countries of Central and South America, regarding Global Total Service that is related in receiving various vessel orders such as COT(Crude Oil Tanker), PC(Product Carrier), manufacture & installation of off-shore plants, development of oil & natural resources, transport and sale, etc, so that It's looking for prominent companies that has ability and technology to cooperate.
Signing this MOU contract, both companies as a strategic partner in faith will keep development each other continuously with using their own human & material network.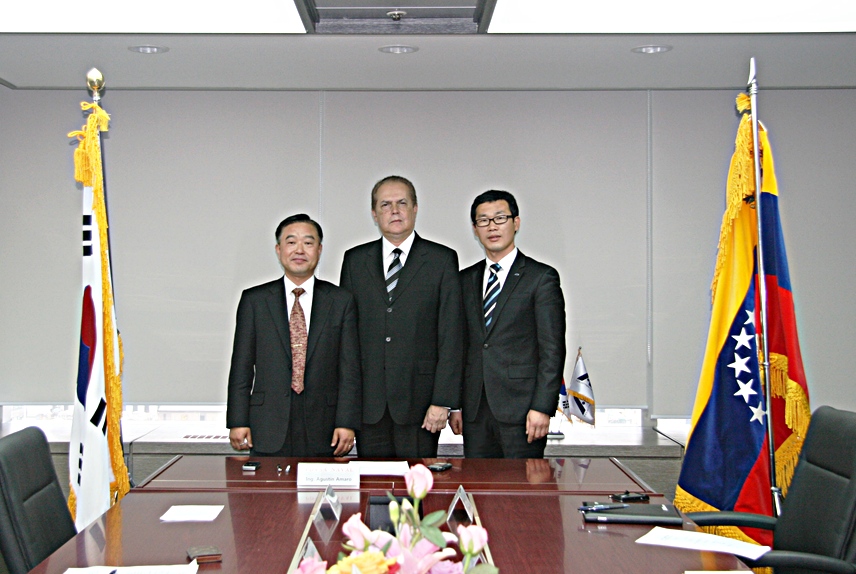 Descript-x-x-xion of photo.
The Left side: Executive director, Lee who is in charge of off-shore plant. The center: Agustin Amaro who is in charge of shipbuilding & off-shore part in PDVSA NAVAL. The right side: President Cho of AHO Group. 2009. 5.12